Rolf Engg. Solution Inc. is a supplier of mandrel bends to the stainless steel fabrication industry. Our products are used in a wide range of markets in India and overseas. As well as bending to customers specifications we stock a wide range of stainless steel, mild steel and aluminium butt weld bends, safety grab rails and swimming pool ladder rails. With over years experience and expertise in forming tube & pipe, Rolf is committed to providing top quality, bent tube and box section in Stainless Steel, Mild Steel, CDS, T45, Aluminum.and on time service to our clients .
Mandrel Bending
Rolling
Swaging & Flaring
CNC Capability
One-off Bends to Multiples
Fast & Accurate
Quick turn-around
Stainless, Aluminium, Copper, Brass & Pipe
Tube size from 6mm to 114.3 mm OD can be manipulated on a variety of different centre line radii to accommodate differing wall thicknesses required by fabricators. 
Various areas of product design and fabrication have recognised the potential in utilising this specialist capability, including architectural designers, where the use of high-performance stainless tube matches many contemporary design visions.
A variety of methods can be used for bending stainless steel tubing. If the bend has a large radius, the tubing can be curved with three-roll benders (also called section benders, profile benders, or angle rolls.) If the bend has a tight radius, the tubing can be bent on a rotary-draw bender through a process called mandrel tube bending.
Both welded and seamless tubing can be curved. When the desired radius is very tight, seamless usually bends better.
Since the application of bent stainless tube often involves products for the pharmaceutical and food industries, care must be taken to avoid carbon contamination of the steel. The machinery and tooling should be cleaned and prepared to avoid such contamination. Furthermore, care should be taken to avoid having metal strapping in contact with the stainless parts. Cardboard, wood or plastic can be used to protect the tubing during transit.
After bending stainless steel tubing, a nut and sleeve can be slid over the ends which then can be flared. Process piping is often supplied this way. For example, 316 seamless stainless steel tubing 1.5 OD x 0.065 wall (16 ga) was bent with two 90 degree bends into a flat-back U. The ends had a 37 degree JIC flare. JIC (Joint Industry Council) fittings are widely used in fuel delivery and fluid power applications, especially where extremely high pressure is involved. Other tubing of the same size and grade was bent with an offset.
Tubing is also becoming increasingly popular in construction in roof trusses, canopies, balconies, and many other applications

Accuracy of 0.1 of a degree is achieved for a variety of applications, automotive, architectural and marine.
CUSTOM BENDS
Custom Bends can be produced in any size between and including 8mm OD x 0.5mm Wall Thickness and 63.5mm OD x 5mm Wall Thickness.
Material, a variety of different materials including Stainless Steel, Mild Steel, CDS, T45, Aluminum can be used to suit customer requirements.
Bends, a variety of different centre line radii bends can be made depending on the wall thickness of the tube.
Accuracy, an accuracy of 0.1 of a degree on a top of the range NC rotary draw bender.
Bends can be produced on differing planes if required.
90 Degree Tube Bend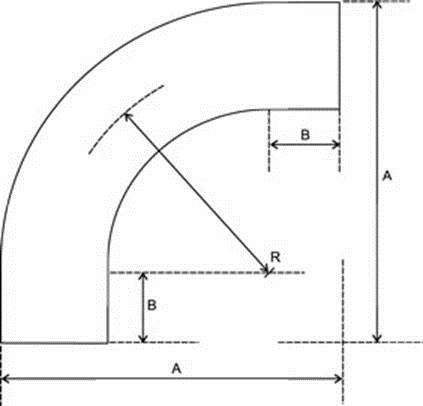 90 Degree Tube Bend Dimensions
Tube OD (mm)

12.7
(1/2")

15.9
(5/8")

19.1
(3/4")

25.4
(1")

31.8
(1-1/4")

38.1
(1-1/2")

50.8
(2")

63.5
(2-1/2")

76.2
(3")

101.6
(4")

152.4
(6")

Radius (mm)

19.05

23.8

28.65

38.1

47.6

57.2

76.2

95.3

114.3

152.4

228.6

Dim A (mm)

55.4

61.7

68.2

80.8

93.5

106.2

131.6

157.1

182.4

233.2

344.8

Dim (mm)

30

30

30

30

30

30

30

30

30

30

40
304 and 316 grade Standard 90 Degree Bends are manufactured to UNI - AS:1528.3
90 Deg Long Leg Tube Bend Dimensions
Tube OD (mm)

25.4
(1")

31.8
(1-1/4")

38.1
(1-1/2")

50.8
(2)

63.5
(2-1/2")

76.2
(3")

101.6
(4")

Radius (mm)

44.5

57.2

76.2

101.6

114.3

139.7

152.4

Dim A (mm)

94.4

120.9

150.1

190.8

235.2

295.9

328.6

Dim B (mm)

37.2

47.8

54.9

63.8

89.1

118.1

125.4
90 Deg Zetan (Zero Tangent) Dimensions
| | | | | | | | | |
| --- | --- | --- | --- | --- | --- | --- | --- | --- |
| Tube OD (mm) | 25.4 | 31.8 | 38.1 | 50.8 | 63.5 | 76.2 | 101.6 | 127 |
| Radius (mm) | 38.1 | 47.6 | 57.2 | 76.2 | 95.3 | 114.3 | 152.4 | 190.5 |
| Dim A (mm) | 50.8 | 76.2 | 76.2 | 101.6 | 127 | 152.4 | 203.2 | 254 |
| Dim B (mm) | 0 | 12.7 | 0 | 0 | 0 | 0 | 0 | 0 |
Tolerance
| | |
| --- | --- |
| Ovality (mm) | +/- 0.5% of OD |
| Square (mm) | Target 0.2 mm, Max 0.4 mm |
| Dim A (mm) | +1 mm -0mm |
| Dim B (mm) | Nominal |
| Radius (mm) | Nominal |